Huun-Huur-Tu
Fall 2012 North American Tour Schedule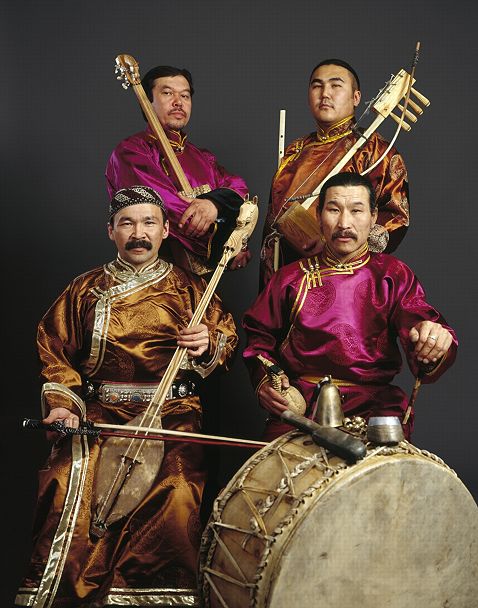 Seated: Kaigal-ool Khovalyg, Alexei Saryglar
Standing: Sayan Bapa, Radik Tülüsh
Huun-Huur-Tu is the premier Tuvan musical group, and the world's top throat-singing ensemble. They have been touring and recording for many years. You can watch several HHT videos on my video page.

Friday 09/21/2012
San Francisco, CA
Great American Music Hall
Show: 8:00PM
Saturday 09/22/2012
Bishop, CA
Millpond Music Festival
Sunday 09/23/2012
Los Angeles, CA
Hollywood Bowl, 2301 N Highland Ave
Thursday 09/27/2012
Meeteetse, WY
Meeteetse School Auditorium, 2107 Idaho Street
Saturday 09/29/2012
Chicago, IL
Gary and Laura Maurer Concert Hall, 4544 N. Lincoln Ave
Show: 7:30PM
Sunday 09/30/2012
Minneapolis, MN
Cedar Cultural Center, 416 Cedar Ave South
Show: 7:30 PM
Monday 10/01/2012
Cedar Rapids, IA
CSPS Hall, 1103 Third Street, SE
Show: 7PM
Wednesday 10/03/2012
Pittsburgh, PA
First Unitarian Church, 605 Morewood Ave
For more info please contact HHT's North American agent, Bill Smith. For other regions, please contact HHT manager Sasha Cheparukhin.
Last updated 9.14.12