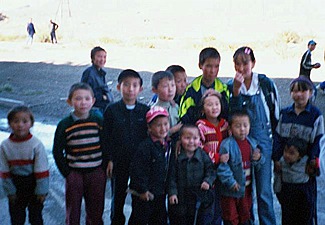 Children in Ak-Dovurak, in western Tuva, the heart of Throat-Singing country. Unfortunately, the area where these kids live is badly contaminated from a huge, open-air asbestos mine. This causes serious widespread health problems.
While foreigners have a romanticized concept of a beautiful Tuva filled with happy throatsingers, the real situation is far more complex. Poverty and alcoholism are widespread, and Tuva is the most dangerous region in Siberia. Life expectancy is the lowest in any region of the Russian Federation: only 49 years for men, and 60 for women. Hopefully, today's children will live safer, longer, and in greater prosperity.
---
Greetings,
Many years ago, when this website began generating modest revenues, it became an important goal to support a charity in one of the traditional throat- singing cultures. Because of my deep ties to the Republic of Tuva, and my desire to give back to its people something in return for the great positive impact that they have had on my life, I consulted Tuvan ethnomusicologist Dr. Valentina Suzukei. She agreed to research
some Tuvan charities and together we decided to choose Detkski Fond of Tuva,
the Tuvan branch of the Russian Federation's Childrens' Fund.
In the words of
Ms. Sara Mongushovna Oorzhak, director of Detski Fond (former member of the
Tuvan Parliament, and former First Lady of Tuva):
With respect we regard our friends in other countries of the world, kindred spirits, and we appreciate kindness toward children. Our organization, the Tuvan Republic's Department of Russian Children Fund, is a voluntary non-governmental organization that realizes such programs as Children with tuberculosis, diabetes, invalid children, gifted children, children in need of social help, deaf children, blind children, children of war, and others.
We give humane help to these children in need, and we also support talented children in culture, art, sport and science spheres. Our organization has experience in building joint charity action with international organizations, and always successfully. For example, we have joint projects with Netherlands Kingdom Consulate in Moscow, General Consulate of Mongolia in Kyzyl, Russian-European Fund (Great Britain), Red Cross and Half Moon society, with the Government of Moscow etc. With great gratitude we will accept help from your organization and we will distribute it in fairness among children that need it. We hope for further fruitful collaboration with you. I wish you creative success, health and happiness.
Yours sincerely,
The Deputy of Great Hural (Parliament) of RT, The Head of Committee on Social Policy of
the Chamber of Representative of GH RT, the Head of the Tuvan Republic's Department
of Russian Children Fund
S. M. Oorzhak
---
If your life has been touched by throatsinging, and you'd like to give something back to
one of the great cultural sources of this beautiful art, please make a donation to Detskii Fond now by clicking the PayPal link below.
Or, you can use my snail-mail address:
Steve Sklar
Skysong Productions,Inc.
3427 Colfax Ave. N.
Minneapolis, MN 55412 USA
Thank you.