Throat-Singing Performances
with
Overtone Orchestra and Big Sky
I perform and record with two Minneapolis-based ensembles, Big Sky and the Overtone Orchestra. Big Sky plays adventuresome, beautiful rock music with melodies and lyrics that want to live in your head. Shining vocals, otherworldly ethno-sounds, and rocking grooves combine for a truly unique style. Organic heaven-and-earth, with electricity.... In addition to throat-singing, I also serve as Big Sky's lead guitarist, producer, and engineer. Visit the Big Sky Web Site, where you can listen to mp3s, watch videos, visit our photo galleries, and more!
Get Big Sky's CD, Standing on This Earth, featuring the epic throat-singing song, Siberia.
The Overtone Orchestra performs original music with an emphasis on harmonics/overtones. We combine numerous world music influences, from Australia (didgeridoos) to central Asia (Tuvan Throat-Singing) to Tibet (Thupten Dadak is a former Gyuto monk) to the Americas and beyond... Of course, it is unusual for a western group to feature a single throat-singer, but the Overtone Orchestra has 5 members capable of producing these marvelous sounds, including a woman! Their set will include original compositions and group improvisations.
Personnel:

Steve Sklar: Khoomei (Tuvan Throat-Singing), didgeridoo, percussion
Johnna Morrow: Flutes, vocals, percussion
Steve "Lazer" Lazarski: Didgeridoo, vocals, percussion
Thupten Dadak (Tibet): Flutes, singing bowls and bells, vocals
Terry Lee Storhaug: Percussion, vocals

You can see a video of the Overtone Orchestra here. Creation of new pics, recordings and video will begin soon... till then, check out this demo. It features Johnna on overtone flute; Terry on dumbek, cymbals and chimes; Thupten on egg and Tibetan conch horn; and the two Steves on didges.
Next Big Sky Performance:
Saturday, February 7, 2004
Turf Club 1601 University Ave. West St. Paul 651-647-0486
Music starts at 10 pm
with Special Guests: Mantra Truck
Next Overtone Orchestra Performance:
Thursday, January 29
Cedar Cultural Center
416 Cedar Ave So. Minneapolis, MN 55454 612-338-2674
The Overtone Orchestra will open for the great Tuvan group Huun-Huur-Tu at their Minneapolis concert
This performance will be videotaped for Cable TV and other projects!
Special Performances:
Steve will perform 9 am Sunday, December 28 at Lake Harriet Spiritual Community as part of a special "Toning & Meditation Service: Shamanic Dreams." Together with didgeridoo player Steve Lazarski, Ministerial Guide Steve Johnson and overtone singer Tamara Whitney, he will help to create a sonic portal for healing journey. The "Steves" will also give talks on the sound spirituality of the Tuvans and Australian Aboriginal peoples.
Johnna will perform as part of a special Service on Sunday, February 15 2004 at Lake Harriet Spiritual Community, joined by pianist Casey Dugan, with the theme, "Love Is."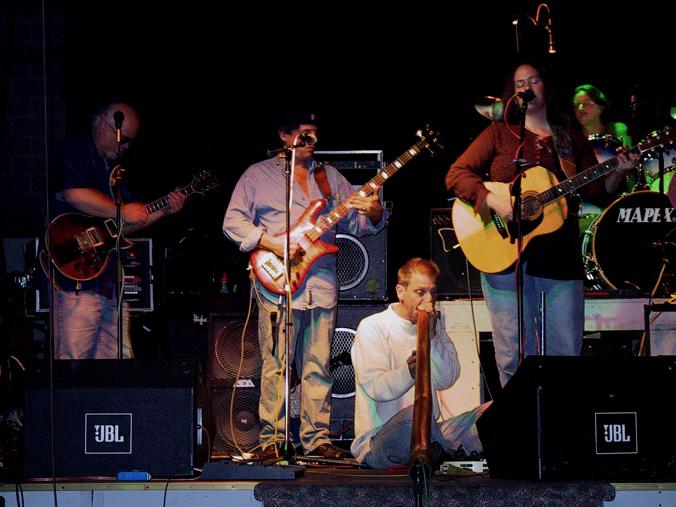 Big Sky Live, with guest/Overtone Orchestra member Steve "Lazer" Lazarski
Last Updated 12-23-03